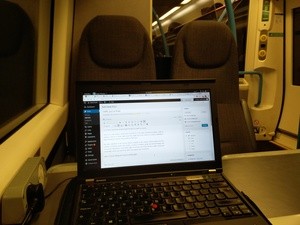 So I'm off to spend the weekend with friends in London, as you do.
There are a few things I really want to get done on the train, involving my laptop. Odds of getting a seat with a plug socket and enough space to work, on a Friday night peak time GWR train from Oxford to London Paddington? Approaching zero unless I pay double for first class.
But wait, capitalism to the rescue! Almost uniquely in the country, Oxford station now has multiple competing routes into London, courtesy of Chiltern going via Oxford Parkway and into London Marylebone. And unlike GWR, it's on time, and I have not just a table, socket and reasonably roomy seat, but three other unoccupied seats around me.
GWR, I'm never taking your route to London again.
(The WiFi is crocked, though ... couldn't all be perfect, now could it.)