Los Angeles, CA - Tuesday 29 October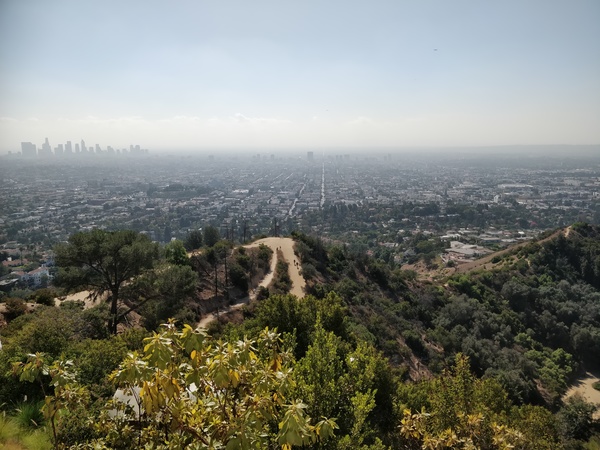 Since the Getty Fire has indeed thwarted my plans to see the Getty (ah well, I'm not much of a one for art anyway), I spent the day in Griffith Park instead. It was far too hot for me to be enthused about hiking four miles to see the Hollywood sign at close quarters, but I climbed the adjoining mountain and got some great LA panoramas from there. You can definitely see that legendary smog from up here, though.
Tonight, I'm flying the red-eye to New York (9.40PM Pacific Time -> 6AM Eastern Standard Time). What seemed like a great money-saving idea (no need to pay for tonight in a hotel!) at my desk in England seems rather less so on the day/night ... but we shall see.
Postscript - how did LA without a car work out?
Days = 5
Total spent on Uber/Lyft = $211
Total spent on five day metro pass = $27
Total = $238
vs approximately $200 for a rental car, plus insurance, plus gas, plus the quite high cost of parking at some of the places I visited.
So I came out (slightly) ahead financially. On the upside, I didn't have to worry about the lunchtime martinis. On the downside, I'd definitely have taken a spin round more of the city if I'd had my own wheels. Overall, though, I'd done enough driving on this trip already that I'm quite pleased I decided to stop. It is meant to be a holiday, after all, and solo driving is quite wearing. Most of the time, I avoided the worst of the LA traffic, but getting to the airport tonight would have been torturous behind the wheel.
In order to make the numbers work, it's worth noting that about a third of the Uber/Lyft rides were shared rather than solo. Most of the drivers were great, one or two were complete maniacs, and only one had an unhealthy interest in both Brexit and the royal family.