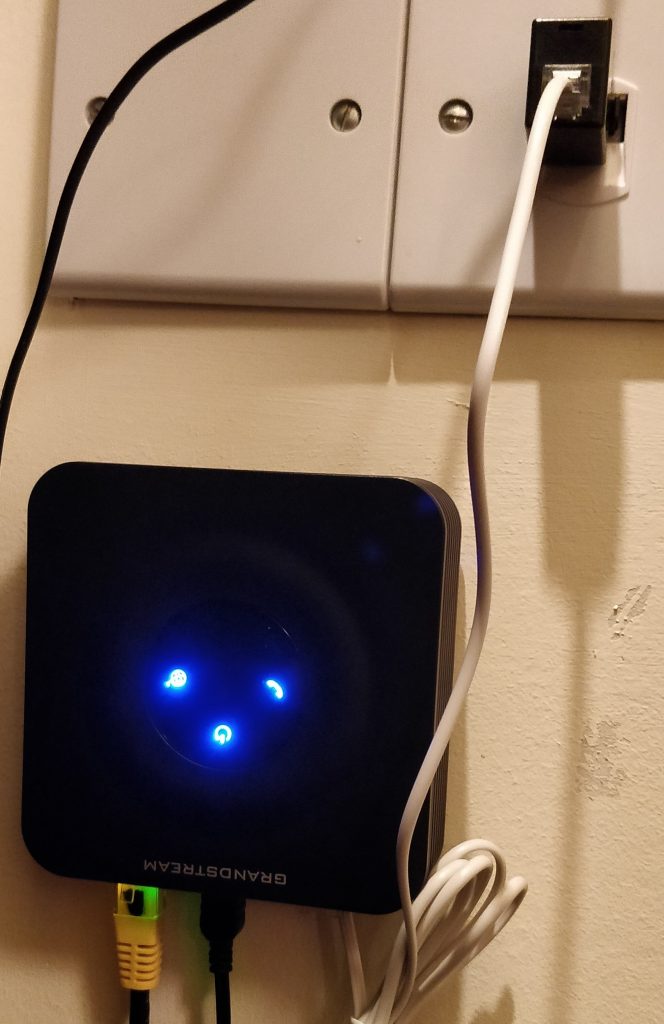 In a final postscript to my new internet ... now that my landline number is on VoIP, it diverts straight to my mobile. But that leaves me with a couple of analogue handsets which no longer do anything.
(Actually, they play an amusing message saying "this is a broadband-only line, please don't disconnect it").
For myself, I'd probably bin them and leave it at that, but there are a couple of reasons to want to keep them working on VoIP - first, most "old fashioned" phone handsets are much easier to hold next to your face for an hour that a smartphone which gets annoyingly warm and is quite heavy.
Secondly, when relatives stay with me (the same relatives who still use landlines to call me), they expect the old phone handsets to work.
I had a Zoom 5801 in my electronics box (goes all the way back to 2011), but although I got it working against the A&A VOIP service for incoming calls, outgoing calls got a busy tone. In the end I got fed up of poking its hateful configuration interface, threw it away, and ordered a Grandstream HT801 from Amazon.
So, have things got better in ten years? Well, sort of. On the downside, the Grandstream needs rebooting after some settings changes and takes forever to come back; on the upside, after a certain amount of prodding, I have it working both ways and it even supports IPv6! I've got it set to IPv6 only, which means no NAT to get in the way of VOIP traffic, and it works well.
I have it connected to the analogue phone extension ring in my flat, and it manages to ring line-powered handsets as well as a cordless phone. The AAISP support site links to the UK/BT settings; it's a boring amount of copy/paste to fill them in, but once done, it has the right ring and dial tones, and even manages to display the caller ID.
Of course, as you can see in the picture, they clearly should have printed "Grandstream" on it the other way up to make it wall mount with the ports on the bottom.
P.S.: The automatic firmware update URL is for an IPv4 only hostname. I changed to s3.dualstack.eu-west-1.amazonaws.com/gs-firmware - no idea whether it will work yet, but seems better than a setting which I know won't!
P.P.S.: There is no encryption on AAISP's VoIP service at the time of writing, so you don't want to use it away from trusted networks - VPN up first. Last time I asked I got told that calls on the PSTN aren't encrypted anyway, which is true as far as it goes but not the leg of the call I'm most worried about. May be time to ask again. To be fair, they are not alone in this decision - most other VoIP providers are the same.
Update, mid-March - first incoming call Just Worked. Quality exactly the same as before, but of course the other party was still on a copper landline.