Social media has been awash with angry people in the past month or so. Actually it's been like that since it was invented, but in this case I'm talking about the state of transport in Oxford.
Admittedly, things aren't going well, and beneath the frothing by those who are too bone idle to realize a bicycle has always been the best way around this town, there are a few reasonable points being made.
Network Rail's claim to be working "round the clock" on fixing the failed rail bridge between Oxford and Didcot didn't sound too impressive when I happened to be walking the Thames Path on a Sunday in April and snapped this photo of their round the clock activities: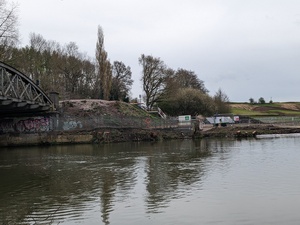 And as for the Botley Road closure, well, the depth of the holes that have been dug under the bridge so far doesn't look nearly enough. And again, no sign of evening or weekend shifts (other than by the marshalls stopping people from cycling through the foot tunnel).
Can't we hire the teams from California or Japan who replace entire freeways after an earthquake? The economic impact of the rail closure alone must be substantial, given the bridge in question carries the rail link between BMW's Mini factory in Oxford and the docks at Southampton.